Let us work with you to grow your company.
Ajay Rahatekar and Chuck Janco have worked together for more than 15 years. They started as web developers at a start up in Los Angeles. After realizing that they make a great team, Ajay and Chuck created a company with another partner and grew it to $10 million in annual revenue. Their greatest joy is discovering talented entrepreneurs and helping them launch and grow their business.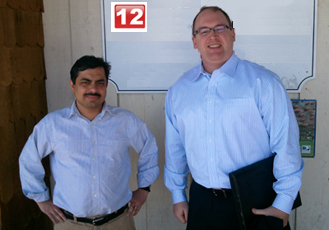 Chuck has a bachelor degree from California State Polytechnic University, Pomona in Computer Information Systems and served in the U.S. Army as a Sergeant/Combat Engineer. He currently lives in the Bay area and works in the 12 Bravo office located in downtown San Francisco.

Ajay has a Bachelor's Degree in Mechanical Engineering from the University of Pune, India. He currently lives with his family in Portland, Oregon and works from the Portland 12 Bravo office.
Incubation Program Details
It starts with a simple application and interview. Once selected, we provide the technical tools you need such as web servers, database servers, development environments, document sharing, source control as well as programming and code framework coaching. In additon, you benefit from business mentoring which will help you launch, grow and maintain growth. Finally, you will receive an intial financial investment in your company.
Get Started
Reach out to us at cjanco@12Bravo.com.